Recognition, incentive trip and rewards
Wednesday, November 1st, 2023
In this section:
We love helping you stay motivated to share the Norwex Mission and build your business with exciting incentives and rewards. Stay inspired to achieve your long-term goals with these growth and recognition opportunities!
---
"Bahamas, Believe!" 2023–2024 incentive trip!
🏝 Plan to achieve "Bahamas, Believe!"☀️
On February 6–10, 2025, we're coming together at the Atlantis Paradise Island Bahamas for fun in the sun with the Norwex Family!
Trip achievers will enjoy 5 days and 4 nights at this popular resort destination in The Bahamas!
The beachfront paradise features stunning white-sand beaches, a magnificent open-air marine habitat and so much more!
📌Trip Tracker: See how to qualify for "Bahamas, Believe!" and track your progress here!
Qualification dates: noon, CT, July 1, 2023 – noon, CT, July 1, 2024.
Share your achievements on social! Trip badges are available on the Incentive Trip landing page under Social Assets and on the Resource. See all trip Recognition badges.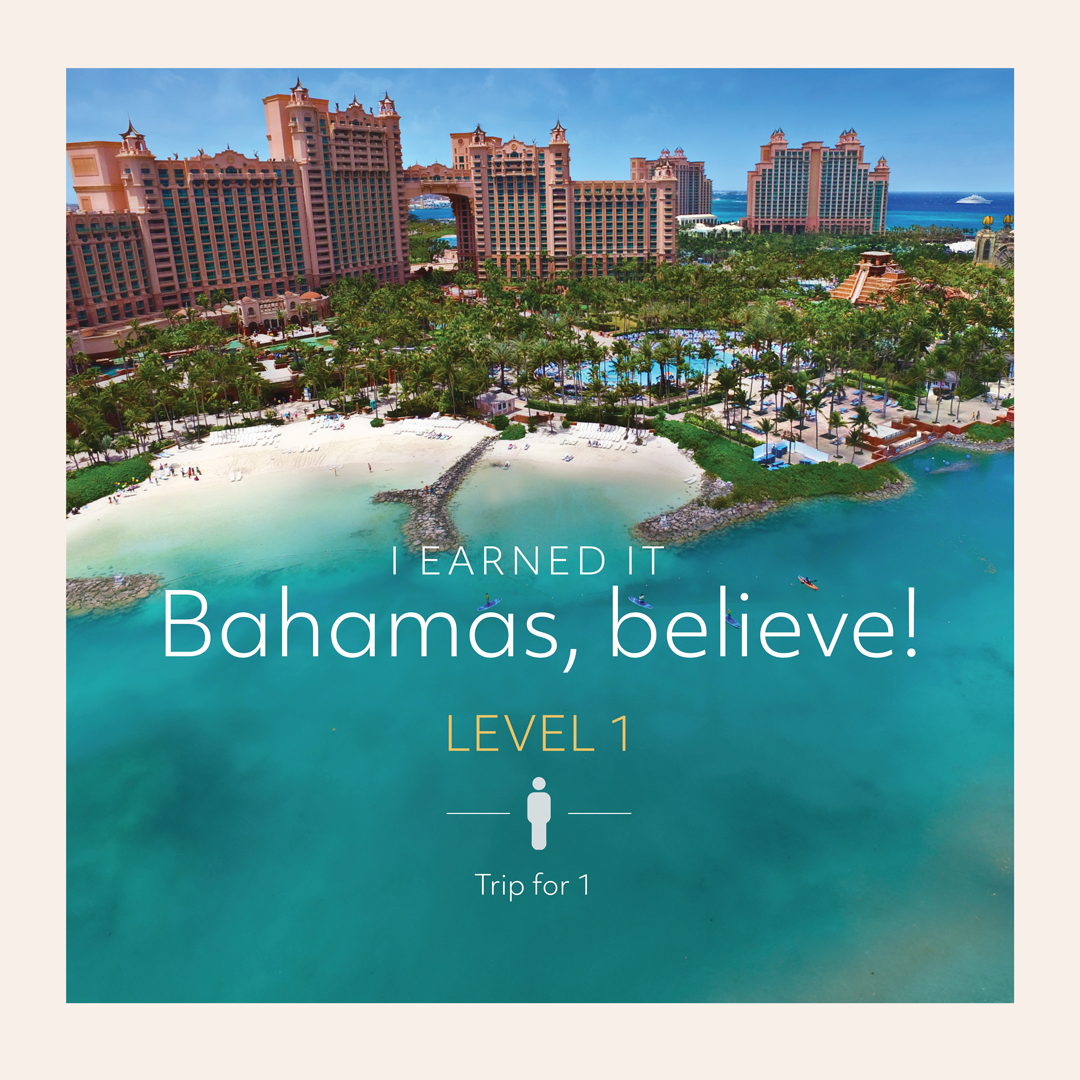 ---
"Bahamas, Believe!" trip testimonial
"Ever since I earned the trip to Maui in 2017–2018, I made sure I never missed a trip again! I would have never gone to all these amazing places since then had it not been for Norwex!
"Each time a trip destination is released, along with the trip miles needed, I do some quick math and divide up the monthly sales I'll need to achieve it! The kids know it, and they like to fill in the trip tracker in my office each month and visually see where we stand and what we need.
"When you make this a family goal, it'll make it even more real and achievable."
💚 Sev Howell, Senior Executive Sales Leader, TN💚
---
2023–2024 Annual Awards Program
🏆Get motivated to be a top 10 Annual Awards achiever. Check out the 2023–2024 Annual Awards Program in this brochure!
Qualification period: noon, CT, July 1, 2023 – noon, CT, July 1, 2024.
📸 See pictures of the all the achievers at National Conference 2023 on Consultant Office > My Team & Me > Recognition > Conference Awards.
---
Bright Start New Consultant Rewards Program
⭐️Our Bright Start Rewards Program encourages New Consultants by offering exciting incentives as they build their businesses.
New Consultants can earn exclusive rewards in their first 90 days by sharing Norwex products and Team Building!
Norwex rewards Team Builders, too! When you add New Consultants to your Team, you can earn Norwex Shopping Sprees!
Here are some tools to help New Consultants get off to a bright start! ⭐️
---
Recognition
🏆Congratulations to our top achievers for the month of October!🏆  
Shining Stars
Leader Promotions
Team Building Achievers
Bright Start Achievers
Promote & Grow
Business Builder Bonus Earners
Incentive Trip Earners
💡You can view the latest Recognition anytime on the Consultant Office > Me & My Team > Recognition!
💡To see all Norwex incentives, go to the Consultant Office > Dashboard > Consultant Incentives.
What's YOUR next goal?
---
Norwex Foundation for a Brighter Future
At Norwex, we believe in the power of coming together to create a positive impact on our communities, environment and future generations. One incredible organization we proudly supported in 2022 is Nature's Mountain Classroom.
With a generous donation of $10,000 from the Norwex Foundation for a Brighter Future, Nature's Mountain Classroom was able to purchase an RV, all thanks to the nomination by our dedicated Norwex Consultant, Nancy Martin from West Virginia.
This RV is no ordinary vehicle; it's a traveling library and learning lab that brings educational tools to outdoor adventure sites. It's equipped with bicycles, safety gear, clothing, kayaking equipment and even provides a restroom for remote locations. What's more, local high school students got involved, customizing the RV and gaining valuable real-world skills.
The impact of this grant reaches far and wide, fostering community involvement and creating opportunities for learning in the great outdoors.
Together, through the Norwex Foundation, we're lighting up lives and building a brighter future for all. Stay tuned for more inspiring stories in Norwex News!
🌟Learn more about the Norwex Foundation for a Brighter Future!
---
View all the content from this month's Norwex News here.